Let's play Star Wars™ Battlefront™! Today we are glad to announce that Twitch will unleash a full week of live streams, challenges, and giveaways, celebrating the launch of Star Wars Battlefront.
Starting November 16 on 11AM PT / 8PM CET, the week kicks off with an hour-long broadcast with host djWHEAT talking you through the happenings, showcasing Star Wars Battlefront trailers, and interviewing Star Wars Battlefront Design Director Niklas Fegraeus.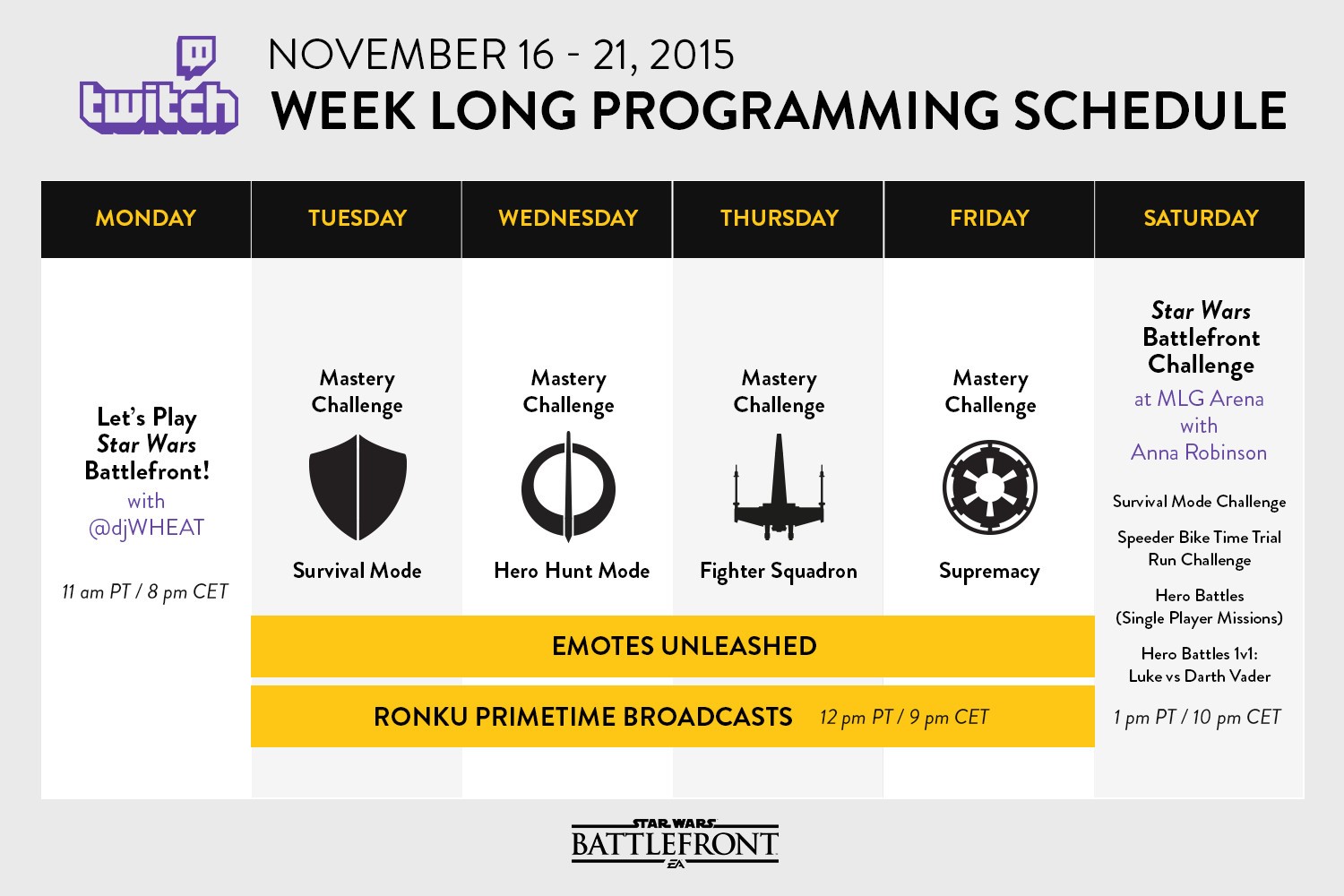 TAKE ON MASTERY CHALLENGES
Throughout the week, the Twitch community can take on daily Mastery Challenges to show their Star Wars Battlefront skills. These challenges are based on the Survival mission and the Hero Hunt, Fighter Squadron, and Supremacy multiplayer game modes.
When a Twitch broadcaster succeeds with a Mastery Challenge, viewers and fans will show their support for the streamer. This is done through email, social media, and a custom set of Star Wars Battlefront Emotes exclusive to the Twitch chat.
Twitch will then scour their platform to find and select the winners based on community feedback. The winners will be rewarded with a feature in the Twitch homepage carousel.
WATCH PRO TWITCH STREAMERS
Every day, you'll be able to watch streams from the RONKU Star Wars Battlefront experts. Make sure to catch these pro streams to learn about the game modes of Star Wars Battlefront, the daily Mastery Challenge, and invaluable tips and tricks for the game.
EPIC FINAL BATTLE IN THE SATURDAY CHALLENGE
The week will culminate with Saturday's Star Wars Battlefront Challenge, where top Star Wars Battlefront personalities will battle in a live streamed event for a grand prize. Hosted by Anna Robinson, the Challenge will take place in front of a live audience in the MLG E-sports arena in Columbus, Ohio.
Playing Survival, riding speeder bikes, and going head to head as Luke Skywalker and Darth Vader, the contestants will fight for the championship title and exclusive awards.