Welcome to this week's Community Blog! My name is Mathew Everett, and I am your Star Wars™ Battlefront™ Community Manager. This blog is meant to keep you updated and informed on all our current happenings around Star Wars Battlefront. Make sure to let me know what you think of these updates and tweet us what else you would like to see. Now to this week's update.
So... How about that beta news? Yes, we have a beta incoming and the final date will be announced as soon as we have the final details locked in. For now, I can tell you this: the beta will consist of two Multiplayer modes and one of our Missions, which can be played via co-op, and split-screen on console. The Beta will also take place on PlayStation 4, Xbox One and via Origin for PC, so we have you covered regardless of your next generation platform of choice.
Beta: Multiplayer Offerings
Get ready hit the battlefront on Hoth via Walker Assault and check out our newly revealed mode, Drop Zone on Sullust. Now, I have to state my excitement here as this is by far my favorite mode and I can't wait for you to check it out for yourself.
Is online Multiplayer with more than two players just not your thing? We have you covered.
Beta: Star Wars Battlefront Missions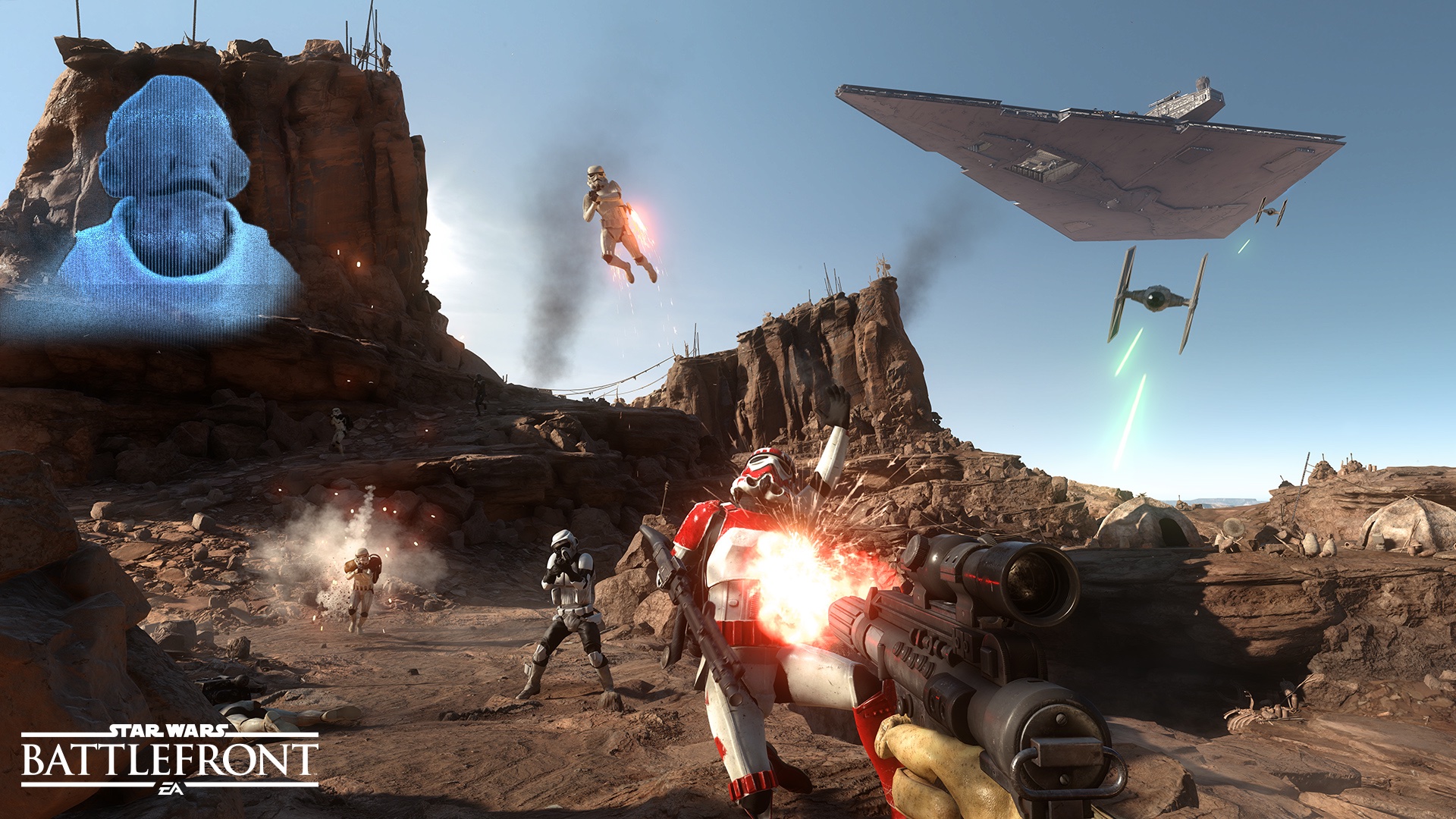 Stranded on Tatooine solo, with a friend online, or couch co-op, you're going to want to check out our beta Survival Mission mode.
Now that we have officially announced the beta, most of you are just itching to know how you can get in. Well, we're excited to say that the beta is open to everyone! Get ready for the beta release date and also make sure your system is ready to download the beta the moment it goes live. Keep your eyes peeled for myself and many other developers during the live beta as we have some cool stuff planned.
I almost forgot upcoming items and news! As I mentioned a few weeks back, our team is working hard to continue to gather the proper details around features, modes, weapons, vehicles, and more. We know a lot of the community is eager to get every specific detail around the game, and our team is looking forward to revealing it.
Community Questions:
I have been collecting some of the top questions from around the community. Check them out below.
Q.) Will I be able to play Missions offline?
A.) For the Beta, an Internet connection is required to play Missions. However, when Star Wars Battlefront ships on November 17 you will be able to play Missions offline.
Q.) Will there be any AI bots in multiplayer in addition to other players?
A.) Yes! Our Fighter Squadron mode features AI units (10 on each side).
Q.) Will there be sidearms or only primary guns?
A.) We offer a primary blaster along with a hand of Star Cards. How you customize your Star Card hand will be up to you.
Q.) What comes with the various editions, i.e. Deluxe vs. Standard?
A.) The Standard Edition of Star Wars Battlefront will include the base game. The Deluxe Edition will include the base game and have the Ion Grenade, Ion Torpedo, and DL-44 unlocked right away along with the exclusive Ion Shock and Victory emotes.
Q.) Can I buy the Deluxe Edition on disk in a retail store, or is it just digitally online?
A.) The Star Wars Battlefront Deluxe Edition is available as a physical item for PlayStation 4 and Xbox One only.
Q.) Can I upgrade my vehicles in Star Wars Battlefront?
A.) Vehicles in Star Wars Battlefront come with their own weapons and abilities that make them authentic to the Star Wars universe.
Until next time, I thank you for checking out these community updates and look forward to sharing more about Star Wars Battlefront. If you have any questions, feel free to ping us on Twitter or Facebook.
Thanks
Mathew Everett
@Sledgehammer70